OUR PRODUCT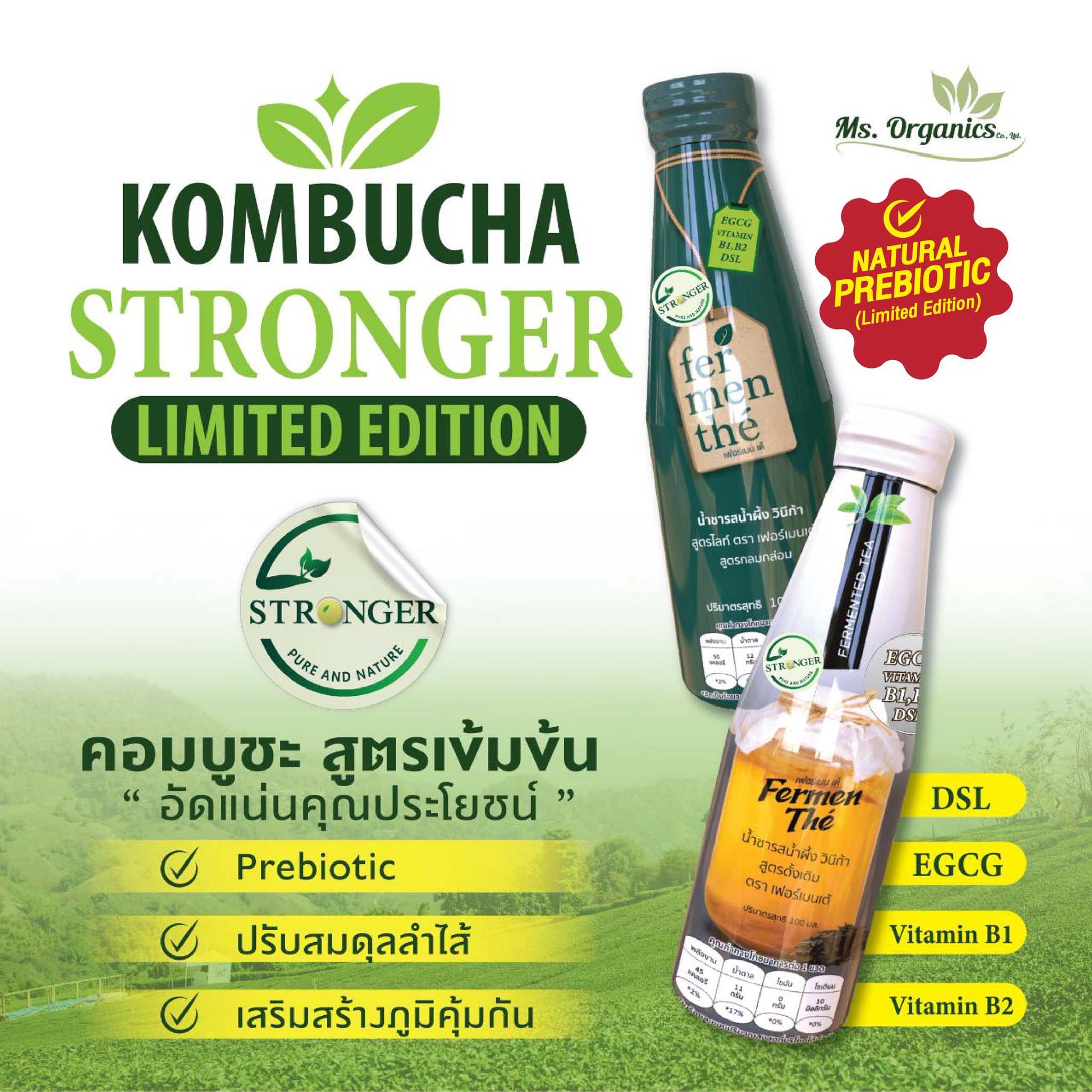 Welcome this festival With the ultimate Kombucha, Limited Edition formula with "Fermente Kombucha Stronger" that contains Pre-biotics to help digest starch, sugar and fat completely. helps to relax the stomach It is also rich in nutrients that are beneficial and healthy. along with enhancing the immune system to make the body strong.
- Helps restore the digestive system.
- Balancing the intestines.
- Detox, detoxify the liver and nourish the liver.
- Build a strong immune system.
- Increase good microorganisms.
- add prebiotics.
- Helps to relax and sleep better.
- 100% natural ingredients.
- Make merit to make you feel comfortable and comfortable.
- Special price for vegetarian festival.
Buy 1 box 550 baht (from normal price 595.-)
Buy 3 boxes or more, free delivery.
Buy 5 boxes or more, discount to 500 baht per box + free shipping.
Ms. Organics, มิส ออร์กานิคส์, Fermenthe', เฟอร์เมนเต้, T-Revive, ที-รีไวฟ์, Honey Vinegar Tea, ชาหมักผสมน้ำผึ้ง, LuckYim , ลูกอมลักยิ้ม, Sparkling Kombucha, PureLamoon Serum, เซรั่ม เพียวลามูน
OUR BLOGS
#GOODHEALTHBYCHOICE
ชาหมัก, Kombucha, พรีไบโอติก, PreBiotic, DSL, EGCG, ชาช่วยย่อย, ชาขับสารพิษ, Organic Tea, ชาออร์แกนิค, White Tea, ชาขาว,Diet Tea, ชาไดเอ็ด, Herbal Tea, ชาสมุนไพร, ชาช่วยให้นอนหลับ, ชาลดน้ำตาลในเลือด, ชาลดคลอเลสเตอรอล, Healthy Tea, ชาสุขภาพ, ชาเพื่อสุขภาพ, Healthy Drink, เครื่องดื่มเพื่อสุขภาพ, เครื่องดื่มบำรุงร่างกาย, เครื่องดื่มออร์แกนิค, ชา, ชาสมุนไพร, Herbal Candy, ลูกอมสมุนไพร, Sugar Free, ไม่มีน้ำตาล, ลูกอมลดกลิ่นปาก, ลูกอมชุ่มคอ Kombucha Serum, เซรั่มคอมบูชะ, เซรั่มเข้มข้น, เซรั่มหน้าใส, เซรั่มหน้าเด็ก, จากธรรมชาติ 100%,เซรั่มสำหรับคนผิวแพ้ง่าย, ออร์กานิคเซรั่ม, เซรั่มลดฝ้า จุดด่างดำ, เซรั่มลดรอยแดง, เซรั่มใบบัวบก
Mind Kombucha, มายด์ คอมบูชะ, Madi Kombucha, มาดี้ คอมบูชะ, D7 Kombucha, ชาหมัก ดี7, Betagen Kombucha, ชาหมัก บีทาเก้น
Company Name:
Ms.organics
Contact Person:
Ms.organics
Address:
55/121 Kamphaeng Phet 6 Road
Sub-district:
Ladyao Subdistrict
Amphur:
Chatuchak District
E-Mail:
customerservice1@bymsorganics.com
paunnagon@bymsorganics.com